Collections and collection accrual
The collections of Luomus feature more than 13.4 million specimens (Table 5) and nearly 8,000 living plant accessions. The Luomus insect collection is among the largest in Europe, including more than 9 million collection specimens.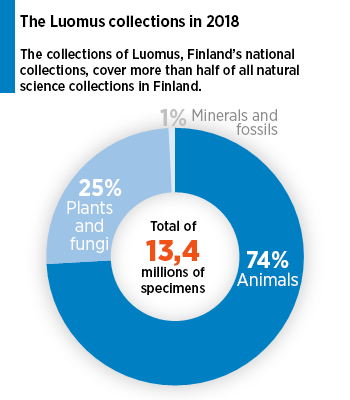 COLLECTION ACCRUAL
Up to 100,000 specimens are added to the collections every year. In addition to the research that generates specimens and observations, Luomus accumulates its collections through specimen exchange as well as collection donations from institutions and individuals. In addition to these accrual methods, Luomus also organises international expeditions to build up its collections.
HOW MUCH GROWTH?
Luomus added nearly 160,000 specimens to its collections in 2017–2018 (Table 6). The year 2018 was a record for collections accrual: nearly 75,000 zoological specimens were added (of which more than 65,000 were insects), along with nearly 30,000 plant and fungal specimens and 3,500 geological specimens. No new geological specimens were added between 2014 and 2016, as the collections were being organised after relocation.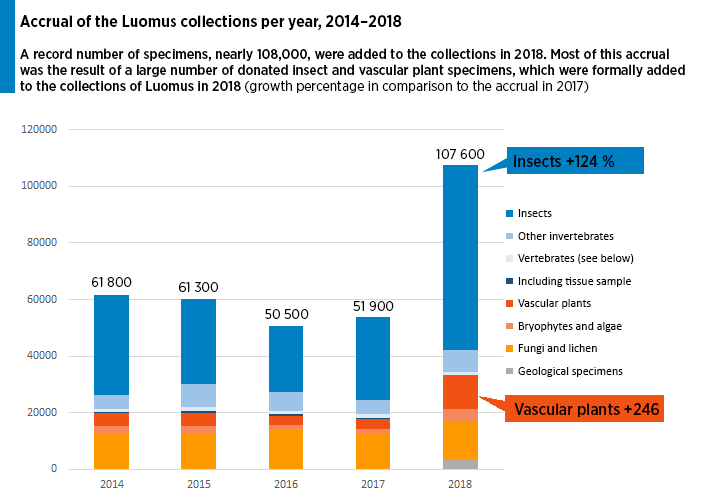 WHAT BROKE THE ACCRUAL RECORD?
The extensive additions to the insect collections are the result of several donations, including the Lars Lindgren beetle collection, Ilkka Hanski's estate (including tropical dung beetles and flies) and Esa Pitkänen's wasp collection as well as the insect collections donated to the Environmental Centre of the City of Kotka by hobbyist associations. Significant efforts were required to integrate all of these donations into the Luomus collections.
The vascular plant collections received an exceptional number of additions, as most of the specimens from two herbaria, donated some years ago, were processed and added to the Luomus collections. Luomus also gained a great deal of new algae specimens in 2018 thanks to the donation of Professor Emeritus Pertti Eloranta's red algae collection. Specimens from the Geological Survey of Finland were added to the geological collections in 2018.
LIVING SPECIMENS – PLANT ACCESSIONS
In the collections of living plants and seeds at the botanic gardens, the collection unit is the plant accession. The collections may feature several accessions of the same species, and correspondingly, an accession may cover a single individual plant or several plants from the same seed batch. Even though the collections grow every year with new plant accessions, older accesisons may be removed if the plants die or the plantings are changed. This means that the annual collection accrual may also be negative.
In 2018, the botanic gardens housed a total of 7,970 perennial plant accessions. This includes both the adult collection plants as well as the seed bank collections, seed stock and sown seeds (Table 7). As Luomus changed data systems between 2017 and 2018, the figures for 2018 are not entirely comparable with previous years.
Read also