FINNISH BIODIVERSITY INFO FACILITY – LAJI.FI
The flagship project for the digitalisation efforts at Luomus has been the Finnish Biodiversity Information Facility. In the Information Facility's portal at Laji.fi, anyone can search within all of the digital data available on Finnish species, browse observations in Finnish species databases and record their own nature observations. Luomus has coordinated the construction of this national resource, which was created in cooperation with several universities, research institutes, NGOs and experts.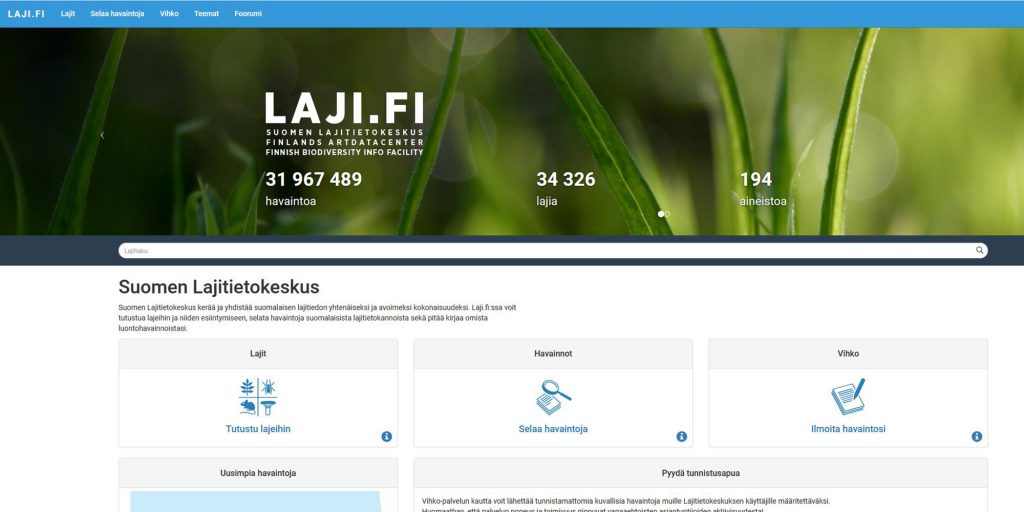 The decision to establish the Information Facility was made in 2012, it was officially launched in 2015, and 2017 was the first full year of operations for the Laji.fi portal. The public was quick to find the service. In 2018, the number of visitors had already doubled from the first year, and the data repository of the Information Facility offered more than 30 million observation points.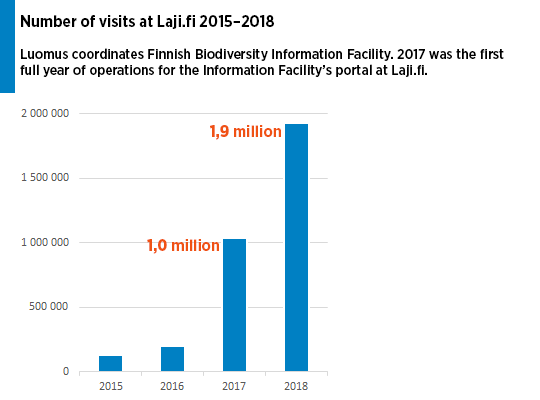 Luomus maintains the Information Facility in cooperation with the Ministry of the Environment, the Finnish Environment Institute SYKE and governmental research institutes as well as universities and NGOs.
WHEN FinBIF MET GBIF
The Finnish Biodiversity Information Facility (FinBIF) met the Global Biodiversity Information Facility (GBIF) in Helsinki in September 2017, when Helsinki hosted the GBIF meeting for the first time.
The national biodiversity information seminar, organised as part of the meeting, featured international speakers providing insight into the state of biodiversity informatics around the world, and FinBIF representatives described the structure and function of the Finnish service. Top researchers from different fields presented ways in which open biodiversity data is being used in research focused on conservation biology and climate change. Potential opportunities for using FinBIF to enhance nature conservation and invasive species management were also raised.
Read also